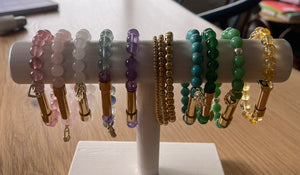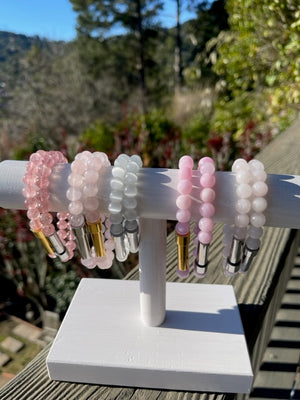 OUR MISSION
Whether you're looking to fine tune your energy, neutralize negative energies, or protect yourself from pessimistic influences, our crystal wish-capsule bracelets and necklaces can help you on the journey towards your goals. Our mission is to support you in attuning to the vibe you seek, so your life will be one of abundance and flow. We all have tough times here and there, but we can also have the tools to help make things manageable. Use these beauties as your magic charms to manifest your greatest desires.
Looking good and feeling like your highest self go hand-in-hand. Our jewelry celebrates family, friendships, good fortune, love, luck, travels, healing, protection and spiritual journeys.
With love + gratitude❤️,
Nathalie
Superfly Wishes
Superfly Wishes has created your secret wishing well. We design jewelry that subconsciously reminds you of the Earth's beauty and your intentions, every time you look down at your jewels. As the crystals attune you to the vibration that you seek, you move gently into living your best life. By using the finest quality crystals, sourced from around the world, with the combination our secret wish capsule, you are set up for manifesting the results you desire. It's the old adage of "like-frequencies attract like-frequencies," aka The Law of Attraction. Whether it's in love, career, friendships, physical or spiritual growth, there is a crystal for your every need. Then, it's up to you to decide, declare and take inspired actions on your intentions. Place your written desires in the wish capsule... and enjoy as the magical Universe conspires in your favor in just the perfect divine timing.
You've got to believe it, to see it. 💙
So it written, so it is. 🖋